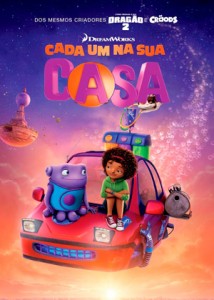 Crítica – Cada um na sua Casa
Dreamworks novo!
A Terra é invadida pelos boovs, alienígenas que vivem em fuga. Oh, um boov atrapalhado e solitário, fica amigo da menina Tip, que está à procura de sua mãe.
Cada um na sua Casa (Home, no original) é a nova animação da Dreamworks. Talvez este seja um dos filmes mais infantis da história da produtora, mas não é por isso que a qualidade do filme é fraca. A parte técnica, como era de se esperar, é impressionantemente bem feita – os cabelos de Tip parecem reais, e aquela cena da nave Gorgon atravessando os anéis de Saturno foi de encher os olhos.
Cada um na sua Casa foi baseado no livro infantil "The True Meaning of Smekday", de Adam Rex, e, como toda história infantil, traz uma mensagem. Mas o melhor do filme é a parte comédia – alguns trechos são muito engraçados! Se a história é bobinha, pelo menos os risos estão garantidos.
A sessão para imprensa foi com a versão dublada. A dublagem foi bem feita, como tem sido ultimamente, mas fiquei com vontade de ver com o som original – afinal, os atores principais são Jim Parsons (o Sheldon de The Big Bang Theory) e Steve Martin. As cantoras Rihanna e Jennifer Lopez fecham o elenco principal.
Agora, sobre a Rihanna… Nada contra o seu trabalho como atriz, mas precisava ter um monte de músicas suas? O filme tem sérios problemas de ritmo porque precisa ficar forçando a barra pra encaixar um monte de músicas chatas e melosas – uma delas aparece pelo menos três vezes! Também tem a Jennifer Lopez na trilha sonora, mas pelo menos é só uma música. Ok, entendo o lado do marketing da Dreamworks, mas isso cansou.
Mas acho que os pequenos não vão se importar…