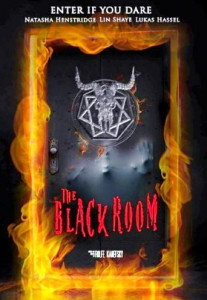 Crítica – The Black Room
Um casal acabou de se mudar para a casa dos seus sonhos. Mas seu casamento feliz está prestes a ser testado à medida que eles descobrem lentamente o segredo por trás de um quarto negro no porão.
Terror meio vagaba, mesmo assim comecei a assistir pra ver qualé. Depois de uma divertida introdução de sete minutos, onde somos apresentados a uma trama que mistura sexo e forças sobrenaturais, aparecem os créditos iniciais – AO SOM DE TARKUS, DO EMERSON LAKE & PALMER!!! Ok, The Black Room ganhou a minha atenção!
Tudo é muito vagabundo no filme escrito e dirigido por Rolfe Kanefsky (que está aí dirigindo filmes desde os anos 90, e heu nunca tinha ouvido falar. Shame!). O clima de filme B reina ao longo de toda a projeção. Mesmo assim, me diverti com as aventuras com um pé no trash e outro no erótico softcore.
A ideia é legal – usa o mito da súcubo (segundo a wikipedia, "um demônio com aparência feminina que invade o sonho dos homens a fim de ter uma relação sexual com eles para lhes roubar a energia vital)". Pena que o final do filme dá uma escorregada, e entra definitivamente no trash – preferia antes, quando era só um flerte.
No elenco, Natasha Henstridge mostra que virou uma quarentona bonitona – mas o filme é de Lukas Hassel, canastrão no ponto exato. Dominique Swain e Lin Shaye aparecem em papeis pequenos.
Nada de mais. Mas quem estiver no clima certo vai se divertir.