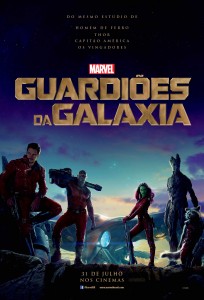 Crítica – Guardiões da Galáxia
Filme novo da Marvel, mas falando de personagens pouco conhecidos, e com gente estranha na direção. Será que presta?
Depois de roubar um artefato misterioso em um planeta hostil, o mercenário Peter Quill vira o alvo de uma caçada liderada pelo cruel Ronan. Agora Quill precisa se juntar a um improvável e heterogêneo grupo para derrotar Ronan e salvar a galáxia.
Heu estava muito curioso com o conceito de um grupo de super heróis que tinha um guaxinim e uma árvore, feito por um diretor que começou na Troma. Mas depois de vários bons filmes, descobri que a gente pode confiar na Marvel. E não me arrependi: Guardiões da Galáxia (Guardians of the Galaxy, no original) é talvez o melhor filme de super heróis que heu já vi.
Em primeiro lugar, não é um "filme de super heróis". Quase todos os personagens são alienígenas, quase todo o filme se passa fora da Terra, ou seja, não se trata de super poderes – seria a mesma coisa que chamar o Yoda de super quando ele usa a Força pra tirar a X-Wing do pântano de Dabogah.
Esqueça esse papo de "filme de super heróis". Guardiões da Galáxia é uma ficção científica com um pé na ação e outro pé na comédia. Adicione personagens bem construídos, diálogos inteligentes, efeitos especiais excelentes e uma trilha sonora inspiradíssima e temos um filme à beira da perfeição.
Um dos meus pés atrás com o filme era o currículo do diretor James Gunn. Não tenho absolutamente nada contra filmes trash, sou fã da Troma, ainda tenho na minha velha coleção de vhs a fita original de Tromeu e Julieta. Mas, na boa, ao saber que o roteirista deste mesmo Tromeu e Julieta estaria na direção do novo projeto da Marvel, rolou um certo receio. Felizmente, infundado.
O outro pé atrás era com os personagens. Um guaxinim e uma árvore? WTF??? Mas, olha, esse medo era ainda mais infundado. Rocket, o guaxinim, é um personagem fantástico; e virei fã do Groot, a árvore que só fala 3 palavras – e, acredite, a cada vez que ele repete as mesmas palavras, temos um novo significado. Genial, genial…
Aliás, é bom falar: a dinâmica entre os personagens é muito bem construída. Claro que o principal é Peter Quill, mas todos os outros quatro têm importância, todos eles têm suas personalidades e motivações, mesmo tendo que dividir o tempo de tela (e, diferente d'Os Vingadores, não tivemos filmes anteriores com cada um pra contar as suas histórias individuais). E outra coisa que funciona bem é como o time é formado, porque eles a princípio são inimigos.
Ah, e tem o humor… Não me lembro a última vez que ri tanto dentro de uma sala de cinema! O humor do filme é genial. Muitas vezes os diálogos do roteiro escrito por Gunn e Nicole Perlman direcionam as cenas para caminhos inesperados, algo meio nonsense – tipo quando Drax quer matar Gamora, mas fica discutindo sobre metáforas. E isso porque não estou falando da quantidade de referências pop – até Footloose é citado no filme!
Completando isso tudo, ao lado de uma boa trilha original orquestrada (composta por Tyler Bates), temos uma excelente seleção musical de hits setentistas (talvez tenha algo de anos 80, não sei ao certo). Detalhe 1: todas as músicas se encaixam perfeitamente no desenrolar do filme. Detalhe 2: todas as letras das músicas se encaixam perfeitamente no desenrolar da trama.
Também precisamos falar do elenco. O protagonista Chris Pratt não é um rosto muito conhecido (chequei no imdb, já vi alguns filmes com ele, mas nunca tinha reparado no cara). Agora, no resto do elenco tem muita gente legal: Zoe Saldana, Dave Bautista, Michael Rooker, Lee Pace, Karen Gillan, Djimon Hounsou e John C. Reilly, além de pontas de Benicio Del Toro, Glenn Close e Josh Brolin (como Thanos). Vi no imdb que tem cameo do Nathan Fillion e a voz do Rob Zombie, mas terei que rever pra procurar. Claro, também tem o Stan Lee fazendo uma ponta. E, para os fãs da Troma, procurem o Lloyd Kauffman entre os presidiários!
A sessão pra imprensa não teve cena depois dos créditos, sei lá por que. Rola uma curta cena no início dos créditos, mas não tem nenhum gancho, é uma piada extra. E uma piada engraçadíssima!
Enfim, se você é fã da sobriedade do Batman do Christopher Nolan, e de filmes sérios e densos, talvez Guardiões da Galáxia não seja para você. Mas se você concorda com aquele velho lema de um exibidor que dizia "Cinema é a maior diversão", este é "o filme"!