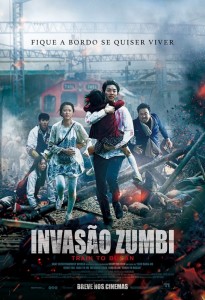 Crítica – Invasão Zumbi / Train to Busan
Enquanto uma epidemia zumbi começa na Coreia do Sul, um grupo de passageiros tenta sobreviver em um trem entre Seul e Busan.
Dois amigos, críticos, vieram me falar de um filme coreano de zumbis que passou na Mostra SP que acabou de acontecer. Depois descobri que o filme também passou em Cannes este ano! Fui catar pra ver, e, realmente foi uma agradável surpresa.
Sempre fui fã de filmes de zumbi, mas confesso que de um tempo pra cá cansei do subgênero. Até resgatei um texto que escrevi em 2013, explicando por que não tenho dado mais bola para o estilo.
Invasão Zumbi (Busanhaeng no original, Train to Busan em inglês) foi escrito e dirigido por Sang-ho Yeon, que até então só tinha feito animações – ele inclusive fez, também este ano, Seoul Station, uma animação que seria um prequel da história contada aqui. Sang-ho Yeon se sai muito bem na sua estreia com atores. E agora tenho que catar esse Seoul Station…
Na verdade, Invasão Zumbi não tem nada de muito diferente do que já vimos por aí. Mesmo assim é um filme extremamente eficiente. A história é bem construída, assim como a tensão crescente entre os sobreviventes – não podemos nos esquecer que os bons filmes de zumbi falam também da degradação da sociedade, do que cada um pode ser capaz quando colocado em uma situação limite. Além disso, os espaços dentro dos trens também são muito bem utilizados.
Mais: há tempos não vejo zumbis tão bem feitos! Li que a produção contratou contorcionistas para interpretar alguns zumbis, criando um efeito assustador, parece uma mistura de zumbi com possuído pelo demônio.
Os zumbis aqui são "corredores" – menos críveis mas bem mais amedrontadores que os zumbis clássicos. Eles são muitos, e se amontoam, criando um visual parecido com aquele "efeito formigueiro" que vimos em Guerra Mundial Z, mas desta vez com menos cara de cgi.
A boa notícia é que a Paris prometeu lançamento no circuito em dezembro – segundo o filme B, Invasão Zumbi estreia dia 29/12. Boa opção pra quem curte o gênero!
p.s.: Será que "Invasão Zumbi" era o melhor nome para já lançamento comercial? Bem, pelo menos foge da piada óbvia (e ruim) "trem pro busão"…