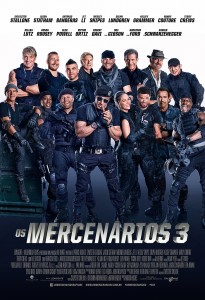 Crítica – Os Mercenários 3
O terceiro filme de uma das mais divertidas franquias do cinema recente!
Barney (Stallone) descobre que Stonebanks, um dos fundadores de sua empresa de mercenários, dado como morto há tempos, não só está vivo como virou um grande contrabandista de armas. Agora Barney quer montar um novo time para partir para uma missão pessoal atrás de seu ex-companheiro.
O primeiro Mercenários foi uma agradável surpresa, uma reunião de veteranos de filmes de ação, trazendo alguns lutadores contemporâneos como coadjuvantes. O segundo foi ainda mais divertido quando trouxe outros ícones e investiu nas piadas ligadas ao elenco – Bruce Willis e Arnold Schwarzenegger têm uma sequência engraçadíssima com várias citações a filmes antigos de ambos, e Chuck Norris chega a citar uma piada famosa na internet.
E agora? Será que o terceiro segura a onda?
Não…
Era uma boa expectativa. Se não tinha Bruce Willis, nem Mickey Rourke e Eric Roberts (que estavam no primeiro) e Jean Claude Van Damme e Chuck Norris (que estavam no segundo), o elenco desta vez contava com Harrison Ford e Mel Gibson. Ou seja, Rambo e o Exterminador do Futuro encontram Han Solo e Mad Max! E não parava aí: ainda tinha Antonio Banderas e Wesley Snipes (ambos trabalharam com Stallone nos anos 90, Snipes fez O Demolidor em 93; Banderas fez Assassinos em 95), além da volta de Jason Statham, Dolph Lundgren e Jet Li. Caramba, como um elenco desses pode dar errado?
(Ainda no elenco, temos Randy Couture e Terry Crews, que estavam nos outros filmes – mas Crews quase não aparece, li que ele estava enrolado com as filmagens da série Brooklyn 99. E também tem Kelsey Grammer e Robert Davi em papeis pequenos mas importantes.)
Vamos aos problemas. Em primeiro lugar, o filme dirigido pelo pouco conhecido Patrick Hughes (é seu segundo longa metragem) tem muitos personagens. Não tem espaço pra tanta gente num filme de duas horas e pouco, alguns têm participações minúsculas – por exemplo, Jet Li aparece tão rápido que não dá tempo de bater em ninguém.
Mas na minha humilde opinião, o pior problema é a nova geração. Determinado momento do filme, Stallone quer um novo time de mercenários, formado por Ronda Rousey, Victor Ortiz, Kellan Lutz e Glen Powell. Isso não só incha ainda mais o elenco como ainda traz alguns personagens sem carisma. Quem quer saber de novatos se você pode ver os veteranos em ação?
(Pra mim, isso foi uma estratégia. Não me espantarei se em breve vermos um spin-off com o novo time.)
Ah, tem um agravante. Ronda Rousey é bonita e bate bem. Mas há tempos não vejo uma atuação tão ruim! Heu achava que a Gia Carano era má atriz, mas vi que tem gente pior…
Além do excesso de personagens e da falta de carisma de alguns deles, Os Mercenários 3 ainda tem outros dois problemas. Um deles é o cgi preguiçoso. É inadmissível uma produção deste porte usar efeitos digitais tão vagabundos. Alguns efeitos lembram produções da Asylum, como a explosão do helicóptero ao fim da primeira cena ou o paraquedas na pedreira.
O outro problema é algo mais pessoal, admito. É que gosto do humor presente no segundo filme, cheio de referências às carreiras dos veteranos action heroes. O roteiro do terceiro filme, co-escrito pelo próprio Stallone, é mais sério. Ok, foi legal ver o Schwarza gritando "get to the choppa!", mas é pouco – pelo elenco, heu esperava bem mais.
Tem uma última coisa que me incomoda, mas é algo que acontece em quase todos os filmes de ação por aí. A cena final tem 10 mocinhos encurralados em um prédio cheio de bombas em posições estratégicas, cercados por um exército fortemente armado com tanques e helicópteros. E, ao fim da cena, todos os inimigos estão mortos, enquanto todos os mocinhos estão inteiros, ninguém levou nem um tiro… Ok, sei que isso não é exclusivo deste filme, e que acontece direto por aí. Mas, que incomoda, ah, incomoda.
No fim, temos apenas mais um filme de ação, com todos os clichês do bem e do mal presentes. Aí a gente lê o elenco e pensa "caramba, conseguiram reunir um elenco desses pra fazer um filme meia bomba?"
Rola um papo que este seria o último filme da franquia. Mas a gente vê que os atores estão se divertindo, se a bilheteria compensar, aposto que teremos mais veteranos voltando à ação. Só espero que Mercenários 4 seja mais próximo do 2 do que do 3.
p.s.: Li que o próximo projeto do diretor Patrick Hughes é a refilmagem do excelente filme indonésio The Raid. Torço muito pelo sucesso de Hughes. Mas torço ainda mais para esta refilmagem nunca ser feita. Vejam o original!!!