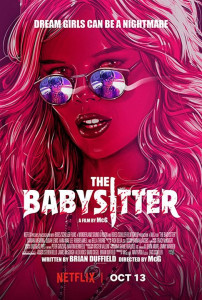 Crítica – A Babá
Sinopse (imdb): Os acontecimentos de uma noite têm uma terrível e inesperada reviravolta para um jovem tentando espionar sua babá.
Pouco a pouco a Netflix vai se firmando como uma produtora de conteúdo. A novidade agora é um terror slasher com um pé no trash.
A Babá (The Babysitter, no original) é terror, mas é um terror leve e divertido, coerente com a carreira do diretor McG (que fez os dois filmes d'As Panteras, Guerra é Guerra e 3 Dias Para Matar). Em momento nenhum o filme tenta assustar o espectador, e o gore é controlado – dá pra ter "nojinho", mas não precisa virar o rosto.
Algumas mortes são acidentais (não me lembro se todas). Neste aspecto, o menos conhecido Tucker and Dale vs Evil é mais eficiente e mais divertido. Mas como ninguém viu Tucker and Dale, deixa pra lá…
O elenco principal funciona bem, a dupla Judah Lewis e Samara Weaving está bem como o adolescente e sua babá gostosa – a interação entre os dois é convincente. No resto do elenco, Bella Thorne, Leslie Bibb, Ken Marino, Robbie Amell, Hana Mae Lee e Emily Alyn Lind fazem o feijão com arroz. Alguns estão caricatos, mas o filme pede personagens assim.
A Babá não é lá grandes coisas, mas o fato de ser despretensioso ajuda. Em momento algum o filme se leva a sério. Assim, quem estiver no clima certo pode se divertir.