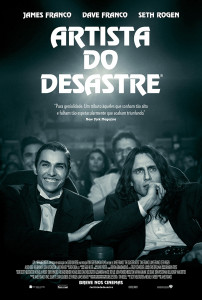 Crítica – O Artista do Desastre
Sinopse (catálogo do Festival do Rio): A verdadeira história por trás da produção de The Room, um clássico cult chamado de "o Cidadão Kane dos filmes ruins". Desde seu lançamento em 2003, o filme vem cativando o público no circuito midnight com sua história desconjuntada, atuações dissonantes e diálogos inexplicáveis. Cada faceta do filme impressiona, assim como a misteriosa e magnética performance de seu criador e protagonista, Tommy Wiseau. Este filme reconta a produção a partir das lembranças de Greg Sestero, amigo de Wiseau e co-estrela relutante do longa.
Já escrevi aqui sobre The Room, um filme ruim, muito ruim, tão ruim que chega a ser uma experiência dolorosa. Mal sabia heu que um outro filme me traria vontade de rever aquele filme ruim muito ruim.
O Artista do Desastre (The Disaster Artist, no original) conta os bastidores das filmagens de The Room, e expõe as excentricidades de seu autor, o bizarro Tommy Wiseau. Wiseau é um cara tão estranho, e a história deste filme é tão inacreditável, que parece que tudo foi inventado. Nada disso, o cara existe e a história aconteceu!
Pra quem nunca ouviu falar de The Room: um cara sem talento nenhum resolveu bancar a produção de um filme que ele mesmo escreveu, dirigiu e protagonizou. Claro que o filme é uma grande porcaria – mal escrito, mal dirigido e mal interpretado. Mas ganhou status de cult como um dos piores filmes da história.
E agora ganha um filme-tributo. E este filme-tributo é muito bom!
O Artista do Desastre é a adaptação do livro "The Disaster Artist: My Life Inside The Room, the Greatest Bad Movie Ever Made", escrito por Greg Sestero, que era o melhor amigo de Wiseau na época do filme. Vemos como começou a amizade entre os dois, e vemos vários episódios bizarros da excêntrica vida de Wiseau.
James Franco foi o "Wiseau" aqui: dirigiu e protagonizou. A diferença é que Franco tem talento. E sua caracterização como Wiseau está excelente! Segundo o imdb, ele não saía do personagem nos intervalos, e continuava falando com o estranho sotaque do Wiseau.
Aliás, o elenco é muito bom. Dave Franco pela primeira vez divide a tela de um longa com seu irmão, interpretando Greg Sestero. Também no (grande) elenco, Zoey Deutch, Alison Brie, Josh Hutcherson, Zac Efron, Megan Mullally, Sharon Stone, Melanie Griffith, Christopher Mintz-Plasse e e Bryan Cranston, e participações de Kristen Bell, Lizzy Caplan, Adam Scott, Zach Braff e J.J. Abrams. Acho que o ponto negativo do elenco é Seth Rogen, interpretando o Seth Rogen de sempre, e que parece que quer aparecer mais do que o filme pede, achei que seu personagem forçou um pouco a barra.
Uma coisa que ficou bem legal foi que recriaram algumas das cenas do filme original, e no fim do filme vemos a tela dividida, com a versão original de um lado, e a refilmagem do outro. Impressionante como aquilo era ruim; impressionante como ficou igual!
O único problema de O Artista do Desastre é que a gente sai do cinema com vontade de ver (ou rever) The Room. E isso é um desserviço à história do cinema. Caí nesta falha, e revi. Só pra constatar que não vale a pena… Fique com as cenas dos créditos, vale mais a pena.
Segundo o filmeB, O Artista do Desastre estreia nos cinemas brasileiros só em janeiro de 2018. É, vamos ter que esperar…