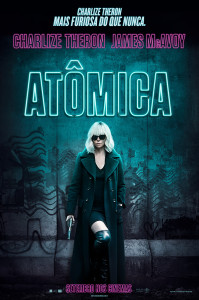 Crítica – Atômica
Em 1989, uma agente do MI6 é enviada a Berlim para investigar o assassinato de um colega e recuperar uma lista desaparecida de agentes duplos.
Quando vi os dois John Wick, reparei que as sequências de ação eram extremamente bem filmadas. Os diretores do primeiro filme, Chad Stahelski e David Leitch, têm uma vasta carreira como dublês e como coordenadores de dublês. Atômica (Atomic Blonde, no original), o primeiro projeto solo de Leitch, é uma adaptação da HQ "The Coldest City", escrita por Antony Johnston e ilustrada por Sam Hart (que é inglês, mas vive no Brasil). E, se John Wick já era empolgante, agora temos cenas de ação com a mesma veracidade e violência, mas dentro de um pacote muito mais elaborado. Bom elenco, boa fotografia, boa trilha sonora, cenas de ação de tirar o fôlego… Estamos diante de um dos melhores filmes do ano!
As cenas de "tiro porrada e bomba" são excelentes. Como o diretor manja dos paranauês no que diz respeito a dublês, tomou cuidado com detalhes que normalmente passam despercebidos, como o modo dos personagens portarem suas armas, ou um personagem que leva uma facada nas costas e depois sente a dor desta facada (já repararam que nos filmes os personagens "se esquecem" das dores?).
São várias sequências antológicas. Mas uma delas chama a atenção: um plano sequência de mais de dez minutos, onde personagens entram num prédio: tiro, porrada, porrada, tiro, sangue, mortes, mais tiro, mais porrada, gente rolando escada abaixo, mais tiro, mais porrada, mais sangue, mais mortes, personagens saem do prédio, entram num carro, começa a perseguição, carro batendo, carro capotando… Tudo sem corte!!! Ok, houve cortes. Li no imdb que foram cerca de 40 planos, emendados digitalmente. Mas não tiro o mérito da concepção de uma cena assim. Sr. Leitch, antes você tinha a minha curiosidade; agora você tem a minha atenção.

A trilha sonora merece um parágrafo à parte. Como o filme se passa em 1989, a trilha só traz clássicos oitentistas. New Order, Depeche Mode, George Michael, David Bowie, Siouxsie and the Banshees, The Clash… Todas bem inseridas no contexto.
Charlize Theron já tinha mostrado que é muito boa em filmes de ação (ela foi o highlight do último Mad Max, e ainda entrou pra franquia Velozes e Furiosos). Mas este é o seu melhor momento no estilo. Ela está linda – como sempre – e sai na porrada de um modo que ninguém vai sentir falta dos velhos "action heroes". Aliás, já existe a expressão "action heroin"? Se ainda não existe, pode ser inaugurada aqui.
Falei da Charlize Theron, o grande nome aqui. Mas ainda não falei do resto. James McAvoy mostra mais uma vez no mesmo ano (pouco depois de Fragmentado) que é um dos melhores atores da atualidade. Sofia Boutella não está mal, mas heu esperava mais de seu personagem (afinal, não podemos nos esquecer que ela mostrou habilidades em Kingsman e Star Trek). O elenco ainda conta com John Goodman, Toby Jones, Eddie Marsan, Bill Skarsgård e Til Schweiger.
Atômica: um filme para ver e rever, e depois comprar o blu-ray.