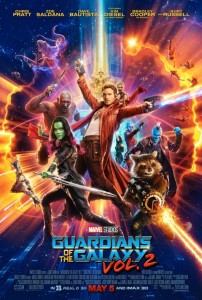 Crítica – Guardiões da Galáxia vol. 2
Enquanto o heterogêneo grupo formado no filme anterior foge de vários inimigos, Peter Quill descobre informações sobre seu pai.
Em 2014, o primeiro Guardiões da Galáxia foi uma boa surpresa. Ninguém esperava nada de um filme onde um dos protagonistas era um guaxinim, e outro, uma árvore. E foi um dos melhores filmes do ano! Claro que agora já existia expectativa. E aí, será que mantiveram a qualidade?
Boa notícia! Guardiões da Galáxia Vol. 2 (Guardians of the Galaxy Vol. 2, no original) é tão bom quanto o primeiro!
Logo de cara já vemos o tom do filme, na melhor sequência de créditos iniciais desde Deadpool. Enquanto o Baby Groot dança em primeiro plano, uma briga violenta acontece ao fundo. Sequência muito bem filmada (plano sequência!) e muito divertida, que dá vontade de rever várias vezes. E que já diz que não é pra levar o filme a sério.
(Parênteses pra falar do Baby Groot. Rolava um certo receio: será que vai funcionar um filhote de Groot, ou vai encher o saco? Respondo com convicção: o Baby Groot é um personagem excelente, que vai ganhar vários fãs a cada exibição do filme!)
Assim como o primeiro filme, Guardiões da Galáxia Vol. 2 é uma divertida aventura espacial. É Marvel, faz parte do MCU, mas nem parece um filme de super heróis. Aliás, é curioso como a Marvel sabe construir seu universo cinematográfico sem nenhuma pressa. Todo mundo sabe que daqui a alguns anos os Guardiões vão se unir aos outros heróis da Marvel. Mas este segundo filme continua completamente independente dos outros. Palmas para a organização do MCU!
A direção e o roteiro estão novamente com James Gunn, que mais uma vez entrega um filme redondinho. Trama bem amarrada, personagens carismáticos, efeitos especiais de primeira, tudo funciona bem. Ah sobre os efeitos, temos, de novo, um ator "coroa" rejuvenescido digitalmente. Impressionante!
Se no primeiro filme tivemos as apresentações dos personagens, agora temos o aprofundamento de cada personalidade. Conhecemos melhor suas peculiaridades e seus problemas. E vemos que, no fundo, Guardiões da Galáxia Vol. 2 é um filme sobre a família. Não necessariamente uma família careta de pai, mãe e filho; mas qualquer tipo de relação familiar, consanguínea ou não. Steven Spielberg deve ter gostado (ou ficado com inveja, sei lá).
No elenco, temos a volta de todos os atores principais do primeiro filme. Claro que o protagonista é o Peter Quill de Chris Pratt, hoje uma estrela do primeiro time; mas o resto do elenco principal tem maior importância: Zoe Saldana, Dave Bautista e as vozes de Bradley Cooper e Vin Diesel (aliás, é curioso ver como Bautista está muito bem como Drax!). Michael Rooker, Karen Gillan e Sean Gunn têm mais espaço nesta segunda parte; e, de novidades, temos Kurt Russell, Elizabeth Debicki e Pom Klementieff. Também temos pontas de Sylvester Stallone e David Hasselhof, e, claro, Stan Lee. Por fim, cameos de Ving Rhames, Michelle Yeoh e Miley Cyrus me fazem acreditar que teremos um spin off…
Assim como no primeiro filme, a trilha sonora é essencial para a trama. As músicas são boas, e se encaixam perfeitamente na narrativa. Agora, na minha humilde opinião, a seleção musical do primeiro filme é melhor… Ah, além das músicas, temos outras referências à cultura pop, como Pac Man, Mary Poppins e a série Cheers.
Por fim, são cinco cenas pós créditos, além de várias piadinhas inseridas no texto dos créditos. Não saia do cinema antes de acabar tudo!